The swastika died in 1945. The campaign and election of 45 has given it a new lease on life. This page lists places in the United States where it has come back to life. The information is based mainly on Google alerts. Dates listed are not of the events themselves but when the alert was received. The events may have happened a few days earlier. I've done my best to eliminate duplicate events.
Why have this list? Simple. Human beings are pattern-seeking creatures. However, the extraordinary pace of events breaks down our ability to see patterns. We fail to see the cumulative effects. Our attention is pulled away to other events. The hope is that when you see the same event repeatedly occurring over time, you'll see the pattern and realize that something is very wrong.
Additions/Corrections: Click here to contact me.
A Note About the Map: Recent events have forced me to add additional information to the map. It is based on the list below and additional information I've gleaned from the internet. You can view the Google spreadsheet that is used to generate the map. Missing information, mainly source URLs for each event, will be filled in over time.

---
Recording of a Bomb Threat – Jan 18, 2017

TRANSCRIPTION:
It's a C-4 bomb with a lot of shrapnel, surrounded by a bag (inaudible). In a short time, a large number of Jews are going to be slaughtered. Their heads are going to [sic] blown off from the shrapnel. There's a lot of shrapnel. There's going to be a bloodbath that's going to take place in a short time. I think I told you enough. I must go.
Source: http://www.haaretz.com/us-news/1.768965
---
2017
Mar 20
WATERTOWN, TN – Watertown police are investigating graffiti spray painted on a church, post office and street signs that included swastikas, satanic references and other vulgarities toward police and school.
The vandalism occurred sometime Monday night or Tuesday morning and included Round Lick Baptist Church on West Main Street, the city's post office on East Main and multiple street signs in the city, according to Assistant Police Chief Joe Hall.
http://www.tennessean.com/story/news/local/wilson/2017/03/22/police-investigate-swastikas-vulgar-graffiti-wilson-county/99491182/
Mar 14
INDIANAPOLIS, IN (WTHR) – A Nazi flag displayed outside an Indianapolis house has sparked outrage far beyond the neighborhood where it hung over the weekend.
A controversial display in an Indianapolis neighborhood sparked outrage over the weekend in Irvington.
https://www.wthr.com/article/nazi-flag-sparks-outrage-outside-east-indianapolis-home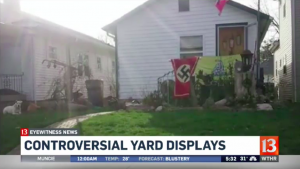 PORTLAND, Ore. — Residents on Southeast 33rd Avenue woke up Sunday morning to Nazi graffiti spray-painted on cars, sidewalks, and private property.
http://katu.com/news/local/se-portland-homes-garages-sidewalks-vandalized-with-swastika-graffiti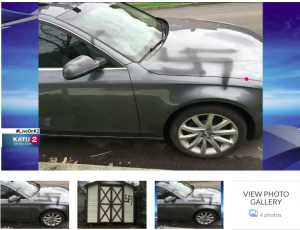 Mar 6
New Rochelle, NY – Shortly before Monday, the Jewish Community Center of Mid-Westchester was evacuated because of a bomb threat.
Police said they responded to the scene at 999 Wilmot Rd. in New Rochelle around 11 a.m., lohud.com said.
This was the second JCC in the Hudson Valley to receive a bomb threat Monday.
The Jewish Community Center on the Hudson was evacuated earlier Monday morning because of a bomb threat.
Tarrytown, NY – Tarrytown police confirmed to lohud.com that a threat had been made and police were called to the facility on South Broadway at 9:13 a.m.
http://patch.com/new-york/tarrytown/jcc-tarrytown-receives-bomb-threat-monday
Cleveland, OH – Swastika Carved Into Door of Lorain Synagogue
"We will rise and gas you bitch."
Those were the words that accompanied a swastika carved into the doorframe of the Agudath B'nai Israel Synagogue in Lorain earlier this month. A day care worker at the organization discovered the message after arriving to work one morning.
http://www.clevescene.com/scene-and-heard/archives/2017/03/06/swastika-carved-into-door-of-lorain-synagogue
Mar 3
Four Suspicious Mosque Fires:
On Jan. 7, the Islamic Center of Lake Travis in Austin, which had been under construction, caught on fire. A week later, on Jan. 14, the Islamic Center of Eastside in Bellevue, Washington, burned.
Two weeks after that, on Jan. 27, several hours after President Donald Trump signed an executive order banning immigrants from seven Muslim-majority countries, a fire destroyed the Islamic Center of Victoria in Texas.
Then, this past Friday, Feb. 24, a small blaze broke out at the front entrance of the Daarus Salaam Mosque near Tampa.
Authorities have ruled that three of the four fires were caused by arson. An official at the Travis County Fire Marshal told BuzzFeed News that the investigation into the cause of the fire at the Islamic Center of Lake Travis remains open.
"We've never seen four mosques burned within seven weeks of each other," said Mark Potok, a senior fellow at the Southern Poverty Law Center, which tracks hate groups around the country. "It's part of a whole series of dramatic attacks on Muslims."
https://www.buzzfeed.com/albertsamaha/four-mosques-burn-as-2017-begins
Rochester, NY – A cemetery in Rochester, New York, has been targeted in the latest in a string of anti-Semitic incidents around the country.
The Rochester Democrat and Chronicle newspaper reported that toppled and defaced headstones were discovered at Waad Hakolel Cemetery in northwest Rochester.
http://abcnews.go.com/Politics/wireStory/police-jewish-cemetery-vandalized-york-state-45880819
Mar 2
NEW YORK, NY (Note: This incident occurred at a church)
The hate is spreading like a virus.
Vandals attacked an Upper West Side Unitarian church near Central Park known for providing shelter to refugees and undocumented immigrants. The suspects cut two swastikas into the house of worship's wooden doors, officials said Wednesday.
http://www.nydailynews.com/new-york/nyc-area-police-investigate-plague-swastika-vandalism-article-1.2985805
BARRINGTON, R.I. (AP) — Someone burned an anti-Semitic symbol into a sign in Barrington and police are looking for the person responsible.
WJAR-TV reports a swastika was burned into a sign on the East Bay path, about a mile away from the Temple Habonim.
https://www.boston.com/news/local-news/2017/03/02/swastika-burned-into-sign-along-bike-path-in-barrington
Feb 28
SEMINOLE COUNTY, FL
A 12-year-old Seminole County student found three swastikas and the phrase "why are the ovens getting hotter?" scrawled on her bus seat nearly two weeks ago.
Stella Cohen, who is Jewish, snapped a photo of the defaced seat and the next day reported the incident to a dean at Rock Lake Middle School, where she's a sixth grader.
Her mother, Tracey Kagan, said school administrators took the incident seriously. They told her that they used video from a bus camera to identify the child who'd drawn the graffiti and that the student had been punished.
But Kagan said given the rash of recent ant-Semitic incidents reported nationwide, including bomb threats at the Jewish Community Center in Maitland, she wishes the school would discuss the what happened with the entire student body.
http://www.orlandosentinel.com/features/education/os-swastika-seminole-school-bus-20170228-story.html
SOUTH ORANGE, N.J. (CBSNewYork) — Hate graffiti was found scrawled on a bridge in a park in Essex County, New Jersey, and the search is under way for the vandals who did it.
The South Orange community came together Tuesday evening to erase the hate. With candles and messages of peace, people gathered tonight on a bridge at South Mountain Reservation where just hours earlier, the walls were covered with messages of hate — several spray painted swastikas and words of intolerance.
CBS2 Exclusive: Swastikas, Messages Of Hate Appear On Bridge In N.J. Park
MIAMI BEACH, FL — City officials say they are "deeply saddened" by a weekend incident in which five vehicles were keyed with swastikas in a neighborhood that has many Jewish residents.
http://patch.com/florida/miamibeach/miami-beach-officials-deeply-saddened-swastika-incident
Feb 27
CROSS RIVER, N.Y. — A new act of vandalism involving a swastika has been reported on Katonah-Lewisboro school grounds, officials announced Monday.
It marks the fourth time a swastika was found on district grounds over the last four months.
http://lewisboro.dailyvoice.com/schools/fourth-swastika-found-on-katonah-lewisboro-district-grounds/701492/
SONORA, CA
City of Sonora Public Works staff cleaned graffiti from a retaining wall Monday morning that included a symbol co-opted by the anti-Semitic Nazi regime in Germany after World War I.
Someone called the Sonora Police Department about 10 a.m. Sunday to report the symbol drawn in black spray paint on the concrete wall along Mono Way between Hospital and Sanguinetti roads.
http://www.uniondemocrat.com/localnews/5106900-151/swastika-spray-painted-on-from-mono-way-wall
Feb 27
Philadelphia, PA – Police in Philadelphia are trying to determine who vandalized a Jewish cemetery over the weekend.
Between 75 and 100 tombstones were overturned and damaged Saturday night at the Mt. Carmel Cemetery in the Wissinoming neighborhood.
http://www.cnn.com/2017/02/26/us/jewish-cemetery-vandalism-philadelphia/
Feb 25
[OR] HILLSBORO, Ore. — District leaders are looking for the student or students who painted swastikas inside Liberty High School in Hillsboro.
"It's definitely upsetting," said communications director Beth Graser.
Graser says the swastika symbols were found in hallways and bathrooms. One was inside or just outside the classroom of a Jewish teacher.
http://www.kgw.com/news/crime/sawstikas-pained-inside-liberty-high-school/414567196
ORCHARD PARK, N.Y. (WKBW) – Swastikas, symbols and squiggly lines were spray painted on multiple vehicles and an elementary school playground located in The Village of Orchard Park overnight, according to Orchard Park Police.
Police say ten cars, an overpass bridge over railroad tracks on Southwestern Boulevard and a playground located at South Davis Elementary were vandalized. It may cost $5,000 to repair the playground.
http://www.wkbw.com/news/swastikas-and-squiggly-lines-spray-painted-on-vehicles-in-orchard-park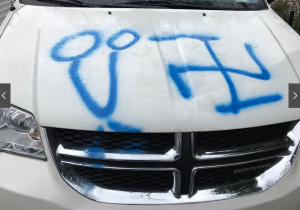 Feb 24
[NY] NEW SQUARE – Nazi swastikas and the words "get out" were spray-painted in black along a vinyl fence on the border of this Hasidic Jewish village, in the latest anti-Semitic incident in Rockland County.
Residents found the graffiti Tuesday night on Polnoya Road. It was painted on a white, 6-foot high fence separating the village from the Friedwald House rehabilitation facility on New Hempstead Road in New City, Ramapo Police Chief Brad Weidel said Thursday.
http://www.lohud.com/story/news/2017/02/23/swastikas-new-square-fence/98306770/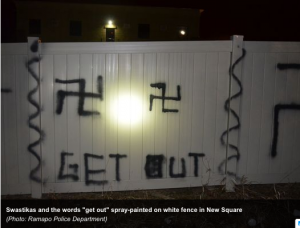 Providence, R.I. — One of the top art schools in the U.S. is investigating after anti-Semitic graffiti made out of human waste was found in a gender-neutral bathroom.
WJAR-TV reports that the Rhode Island School of Design told students the swastika was discovered over the weekend in a dormitory bathroom.
http://www.detroitnews.com/story/news/nation/2017/02/24/college-swastika-human-waste/98345940/
Feb 22
[MO] It's an ugly reminder right here in Wilson County of the recent anti-Semitic movement that is sweeping the country of late.
A cruise down Central Pike reveals at the 9500 block a very precise Swastika symbol morphed from an innocent four-way direction sign.
http://wilsonpost.com/sign-vandalized-with-swastika-near-mt-juliet-cms-90231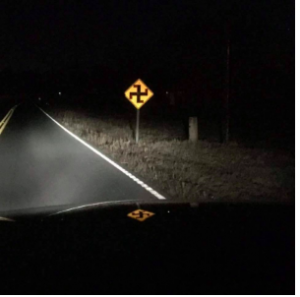 [NV] NORTH LAS VEGAS (KTNV) – Cheyenne High School was vandalized last weekend with graffiti, including a swastika.
The vandalism was painted over before kids returned to school.
http://www.ktnv.com/news/swastika-painted-at-cheyenne-high-school
[NY] A Jewish man who found anti-Semitic graffiti spray-painted along an Elmira trail this weekend says he is appalled by the discovery.
On Saturday, Elmiran Malachi Doane was on the hunt to document anti-Semitic and hate graffiti he saw on the iron bridge on the Lackawanna Trail in Elmira recently. But as he passed under the East Water Street overpass, he noticed fresh hate symbols.
The bright red spray-painted swastikas were a stark contrast to the hunter green picnic table placed under the Interstate 86 overpass.
http://www.stargazette.com/story/news/local/2017/02/21/swastika-graffiti-found-along-elmira-trail/98175784/
Feb 21
St. Louis, MO – Even from the air it looks chaotic, like someone has angrily scattered previously tidy rows of toy blocks.
A view from the ground shows a more somber reality — scores of granite and marble tombstones, toppled and damaged in a historic Jewish cemetery at a time tensions in the nation's Jewish communities are already high.
A vandal or vandals toppled and damaged more than 100 headstones at the Chesed Shel Emeth Society cemetery in the St. Louis suburb of University City within the past week, police said Monday.
http://www.cnn.com/2017/02/21/us/jewish-cemetery-vandalized/
Feb 20
[MN] A swastika and the last name of President Donald Trump were spray-painted near a trail in Chaska.
The graffiti is at the Koehnen Creek trail, which passes under Highway 212. The painting was near the trusses of the eastbound lanes.
http://www.swnewsmedia.com/chaska_herald/news/public_safety/bridge-vandalized-with-swastika-president-s-name/article_05e6436b-eccd-57af-bddc-7226783626b6.html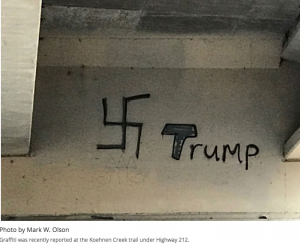 HARRISBURG, Pa. (WHTM) – Police are investigating an incident where swastikas were drawn in chalk at a Lower Paxton Township home.
Township police said a resident of the 2500 block of Wicklow Drive reported the incident Sunday night after discovering the swastikas on his driveway and front porch area.
Multiple swastikas were drawn in pink and yellow chalk.
http://abc27.com/2017/02/20/swastikas-drawn-in-chalk-outside-lower-paxton-home/
[MN] The University of Minnesota continues to see an increase in anti-Semitic incidents.
With the discovery of swastika-covered fliers advertising a neo-Nazi website Friday and the arrest of a student for allegedly committing vandalism using a swastika, the University has documented at least eight incidents involving swastikas, neo-Nazi propaganda and other anti-Semitic graffiti since December, according to the school's Bias Response and Referral Network.
http://www.mndaily.com/article/2017/02/anti-semitic-poster-found-on-campus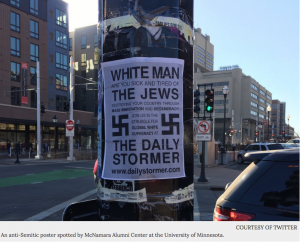 Feb 18
Owners and customers of a Watkinsville restaurant that closed Thursday for "A Day Without Immigrants" returned Friday to find a swastika and other comments on a note they left on their door.
The Taqueria La Parrilla was one of thousands of restaurants in the United States that closed Thursday in boycott of President Donald Trump's executive orders to crack down on illegal immigration.
http://www.ajc.com/news/breaking-news/swastika-drawn-restaurant-note-day-without-immigrants/JmjtsLLksv989W1Vt5MUAK/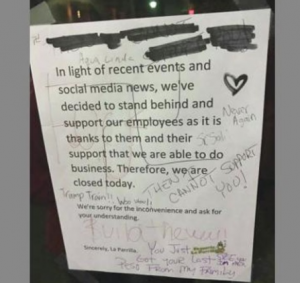 ROBERTSON COUNTY, Tenn. — A Robertson County man's flag stirred-up controversy again with passer-bys..
Last year, Dale Spurgeon told Fox 17 about the swastika flag displayed outside his Springfield home. Neighbors said they were upset, but Spurgeon said he's just exercising his first amendment rights.
Now Spurgeon has a larger flag that neighbors say is more visible from Hwy 76 when the trees are bare for the winter. It's bringing up new complains.
"From the very beginning absolutely nobody has came up here and discussed it with me," Spurgeon said. "My family fought for the Third Reich. They're very proud German people. Not all German people are bad, and National Socialism is not a bad form of government just some very bad things turned out in it. I really don't have problems with people of other races-my wife is from Mexico."
http://fox17.com/news/local/robertson-co-man-says-he-has-the-right-to-fly-swastika-flag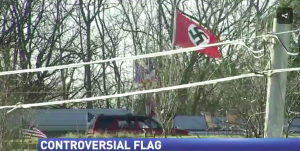 [VA] A handwritten swastika and a note containing a gay slur were found posted outside of a building on the campus of a Fredericksburg-area college on Feb. 4, reports Washington, D.C.'s ABC affiliate WJLA.
The note was found outside Lee Hall on the campus of the University of Mary Washington by a concerned undergraduate student, who posted the note to the school's Facebook page the next day, an open letter from the university's vice president of student affairs confirms.
http://www.metroweekly.com/2017/02/swastika-gay-slur-virginia-college/
[PA] Shippensburg Area Senior High School's 'spirit rocks', a pair of small boulders on the edge of its campus, have stood for decades as a canvas for students to express school pride.
Typical messages are full of cheer: an ode, for instance to the class of 2017.
On other occasions, the rocks have stood as a memorial, filled with messages of remembrance, following a student death.
But on Friday at 9 a.m., school officials discovered the rocks had been branded with a different message: two large, orange swastikas.
http://www.pennlive.com/news/2017/02/shippensburg_high_school_spiri.html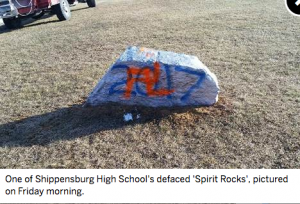 Feb 17
BOCA RATON, FL: Parents of Omni Middle School students were notified Thursday after a swastika was found drawn on a boys' bathroom stall.
http://www.palmbeachpost.com/news/crime–law/new-swastika-found-drawn-boys-bathroom-boca-middle-school/MTMBZ7GcZmcHipv0VgCTZM/
Eugene [Oregon] police have announced a fourth case of swastika graffiti in the city. And they say a white supremacist flyer was posted near a home displaying a Jewish symbol.
http://klcc.org/post/swastika-graffiti-downtown-suspect-description-given-flyer-incident
PROVIDENCE, RI: A swastika was discovered Thursday morning spray-painted on a dumpster in front of a YMCA in Providence. Staff say they removed the anti-Semitic symbol shortly after its discovery.
http://ripr.org/post/swastika-found-painted-dumpster-outside-providence-ymca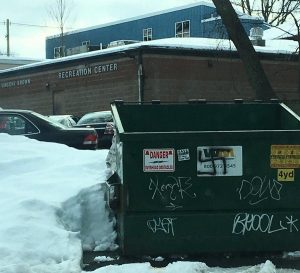 FREDERICKSBURG, Va. (ABC7) — A handwritten swastika and a note containing a gay slur was found posted outside of a building on the University of Mary Washington campus on Feb. 4.
The swastika was accompanied by a note that read "Attention F**gots!! We could live next door."
http://wjla.com/news/local/swastika-gay-slur-note-found-outside-building-on-univ-mary-washington-campus
Feb 16
OAK PARK [CA] (CBSLA.com) — Someone has been leaving messages of hate at half a dozen places, including a Chabad house, in a Ventura County community.
Stuart Craner found a piece of paper with a hand-drawn swastika and threatening words taped to the outside of his back sliding door.
"Mine said: 'prepare yourself.' And I'm thinking, for what?" Craner asked.
At least six Oak Park homes had the anti-Semitic symbol put in mailboxes and on doorsteps Saturday night, according to Thousand Oaks police.
Some, but not all of the homes belong to Jewish families.
Messages Of Hate Left In Mailboxes, Doorsteps Of At Least Half Dozen Ventura County Homes
STOUGHTON [MA] — One high school student stood up and made a gesture in reference to Adolf Hitler. And a younger middle school student directed anti-Semitic comments at a fellow child.
These recent incidents in the Stoughton Public Schools come as the administration faces harsh criticism surrounding two swastika incidents involving high school students back in November. The teachers union brought them to light last month when three teachers were punished for talking about what occurred.
http://www.enterprisenews.com/news/20170216/new-anti-semitic-incidents-probed-at-stoughton-schools
45 was asked a question about the growing anti-Semitism in the country. As usual, he takes it as a personal insult, not as the political and moral leader of the country.
Trump bullies Jewish reporter who asked for plan to fight anti-Semitism pic.twitter.com/65jVHlg2cS

— Tommy Christopher (@tommyxtopher) February 16, 2017
Feb 14
WATERLOO, Iowa (KCRG-TV9) – Lost Island Water Park says it is disappointed after someone spray-painted racist graffiti and swastikas at the park.
General Manager Eric Bertch discovered the graffiti on Friday morning and says the vandals hit sometime between 7:00 pm Thursday and 7:00 am Friday. The messages included swastikas and racial epithets on the pools and several buildings.
http://www.kcrg.com/content/news/Swastika-racist-graffiti-left-at-Lost-Island-Water-Park-413629553.html
WILLIAMSBURG [Brooklyn, NY] — A vandal scribbled a swastika inside the hallway of waterfront apartment building that's home to a large number of Orthodox Jewish residents, according to police.
Residents of the Schaefer Landing building at 450 Kent Ave. noticed a swastika scrawled in grey ink on the 15th floor near the elevator on Friday, police said.
https://www.dnainfo.com/new-york/20170214/williamsburg/police-hate-crime-nypd-swastika-jewish-orthdox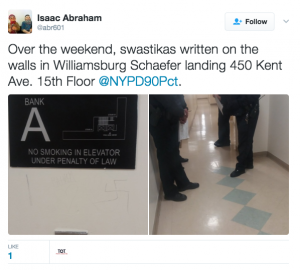 Feb 13
[FL] Deputies are searching for the person who spray painted a swastika on a car in a predominately Jewish West Boca neighborhood
http://www.sun-sentinel.com/local/palm-beach/fl-pn-swastika-car-near-boca-20170213-story.html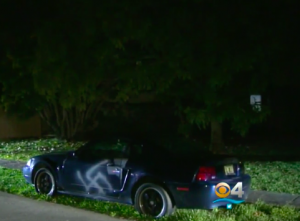 Feb 11
TOLEDO [OH] — A swastika and profane message cursing Arabs spray-painted on a Lebanese family's garage that Ohio police are investigating as an act of ethnic intimidation have been painted over.
http://www.whio.com/news/local/swastika-anti-arab-graffiti-target-lebanese-family-ohio/AesTRdVV807mdf5lJzIJAJ/
Feb 9
CROSS RIVER, N.Y. — Another act of vandalism involving a swastika has been reported at John Jay High School, officials announced on Wednesday.
The latest swastika was found in a library bathroom at the school, according to emails from officials.
http://lewisboro.dailyvoice.com/schools/another-swastika-is-found-at-john-jay-high-school/699334/
Feb 8
MURFREESBORO, Tenn. (WKRN) – A spokesman for Rutherford County Schools in Tennessee said vandalism featuring a swastika was found at Blackman High School Tuesday.
A student alerted administrators to vandalism inside a girl's bathroom stall before second period, according to communications director James Evans.
http://wavy.com/2017/02/08/swastika-found-in-girls-bathroom-at-tennessee-high-school/
NEW BRUNSWICK [NJ] — Rutgers University Police Department is investigating a report of a swastika drawn on a dry erase board in a campus residence hall, according to the university's student newspaper.
http://www.nj.com/education/2017/02/rutgers_police_investigating_swastika_drawn_in_dor.html
Feb 6
LAS VEGAS [NV] (KSNV News3LV) – A brazen act of vandalism at a local synagogue is captured on surveillance video after a suspect carved a swastika into a marble pillar.
The vandalism reportedly occurred Saturday afternoon during Sabbath services at Chabad of Southern Nevada, 1261 Arville St., near West Charleston Boulevard.
http://news3lv.com/news/local/swastika-carved-into-wall-of-local-synagogue-during-services
Over the same weekend that saw a rash of swastika vandalism in several U.S. cities, an apparently spray-painted swastika was spotted underneath a highway overpass in Logan Square.
http://chicagoist.com/2017/02/06/swastika_logan_square.php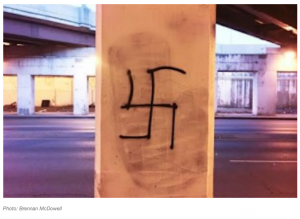 EUGENE, Ore. – Residents and business owners in the Whiteaker are upset and concerned about swastika graffiti tagged around the area recently.
One of the owners of Old Nick's Bar and Restaurant, Jevon Peck, was angry when he discovered the graffiti on the side of his building. The business acted fast to paint over the Nazi symbol, but the painful message is still being felt in the community.
http://kval.com/news/local/several-swastika-signs-found-graffitied-around-whiteaker-neighborhood
Feb 5
[TX] A bright swastika chalked below a scrawled "TRUMP" vandalized Rice University's founder's statue this weekend.
The chalk graffiti was found this weekend on the William Marsh Rice statue in the heart of the academic quad. University officials were quick to condemn the vandalism, the third act Rice has experienced in the last month.
http://www.chron.com/news/houston-texas/houston/article/Vandals-strike-Rice-University-third-time-in-a-10909625.php
[NY] On Saturday evening, New Yorker Gregory Locke boarded a 1 train headed toward 72nd Street where, he says, he and his fellow riders found "a swastika on every advertisement and every window." Locke took several photos of the scene — including one of a subway map with "Jews belong in the oven" scrawled over it — and posted them on Facebook, where they have already been shared more than 200,000 times in just over 12 hours.
http://nymag.com/selectall/2017/02/ny-subway-swastikas-removed-by-hand-sanitizer-in-viral-post.html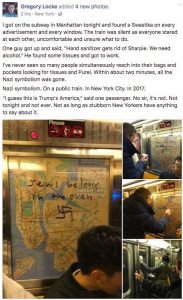 DANVILLE [CA] (CBS SF) — Danville police were searching for the vandals who carved a giant swastika into a hillside.
The Nazi symbol was scrawled into the dirt by a community center on Fountain Springs Circle.
http://sanfrancisco.cbslocal.com/2017/02/04/swastika-carved-into-danville-hillside/
Feb 4
[IL] Authorities have opened a hate crime investigation after a synagogue in downtown Chicago was vandalized early Saturday, according to police.
Around 12:20 a.m., officers responded to a call at 16 S. Clark St. in the city's Loop, police said.
http://www.nbcchicago.com/news/local/chicago-loop-synagogue-vandalized-swastikas-412773583.html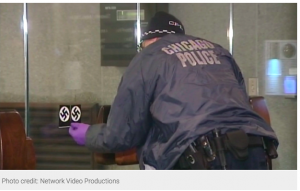 PARADISE VALLEY, AZ (3TV/CBS 5) -Police are investigating after someone painted swastikas at an elementary school and in the surrounding Paradise Valley neighborhood.
http://www.azfamily.com/story/34423389/swastika-graffiti-found-at-elementary-school-in-paradise-valley

SKOKIE, IL – A swastika was found carved into a wooden bench at the Illinois Holocaust Museum and Education Center in Skokie on Wednesday, according to police.
http://patch.com/illinois/skokie/swastika-found-skokie-holocaust-museum
Feb 2
[CA] Vandals scrawl swastika on Tahoe Park barber shop
www.kcra.com/article/vandals-scrawl-swastika-on-tahoe-park-barber-shop/8664477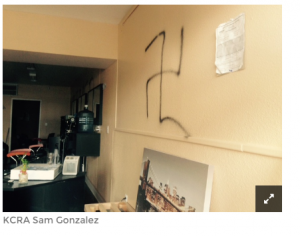 NEW YORK (FOX 5 NEWS) – A woman walking in a park in Queens was shocked to discover that someone had scrawled a swastika and "KKK" in the snow on the ground.
http://www.fox5ny.com/news/233089653-story
Jan 31
LAS VEGAS [NV] (KTNV) – A swastika was painted on the side of the Mexican Consulate in downtown Las Vegas.
http://www.ktnv.com/news/swastika-appears-on-mexican-consulate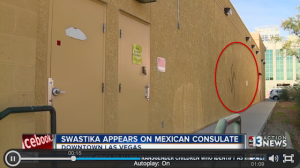 Jan 30
[CA] Swastikas were discovered last weekend at Stanford University, less than a month after another rash of swastikas and anti-Semitic graffiti was found around campus.
http://forward.com/news/breaking-news/361525/swastikas-at-stanford-university-second-time-in-a-month/
Jan 28
[FL] Another Swastika Wearer Spotted Near Rally To Commemorate Auschwitz Liberation
Today, people spotted a second man prominently featuring a swastika on his clothing strolling on UF's campus. The man, identified as Roger Wiggins, was spotted with his walker wearing a black leather jacket with a large swastika symbol painted on the back.
Wiggins said he believes he has the right to express his opinion, claiming that he did not mean to confront anyone.
https://www.wuft.org/news/2017/01/27/while-activists-gather-at-rally-to-commemorate-auschwitz-liberation-another-swastika-wearer-spotted/
Jan 27
CHICAGO, IL — Chicago 22nd District Police are investigating threatening racist graffiti found scrawled across garage doors in Beverly late Wednesday evening, the Chicago Tribune reported.
Police were called to a home in the 10300 block of South Claremont Avenue around 9:45 p.m. to investigate a report of swastikas and the letters "KKK," including the Ku Klux Klan's blood-dripping cross symbol, on a garage.
Also found was the word "n—er" written several times, with the phrase "I want them dead," the Tribune said.
http://patch.com/illinois/beverly-mtgreenwood/swastikas-kkk-graffiti-found-beverly-reports
LAKELAND [FL] (FOX 13) – Nazi symbols have been found painted on rocks outside of a downtown Lakeland business owned by Muslims.
Earlier this week, Alaa Shalaby discovered that someone had left a rock painted with a swastika at the back door to his business, Urban Appeal, a trendy clothes store on Kentucky Avenue. The next day, he found a second one in the same place.
http://www.fox13news.com/news/local-news/231986656-story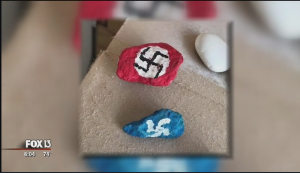 Jan 26
[MA] Just nine months after a similar incident at Georgetown Middle High School, two students reportedly drew the Nazi symbol at the town's new elementary school.
http://georgetown.wickedlocal.com/news/20170125/swastika-drawn-near-penn-brook-playground
When Alandes Powell arrived at her son's high school on Sunday, she saw a swastika and the word "Trump" spray-painted on a building. On benches and a sign at the school's new baseball field, she saw more graffiti, including racist and homophobic slurs.
A friend had alerted Ms. Powell to the vandalism at Withrow University High School in Cincinnati, where her son is a senior and football player. Her first reaction was anger. "You want education to be a safe place," she said. "These kids are just growing into who they want to be."
https://nyti.ms/2kuiuLX
Jan 25
[FL] A man wearing a swastika armband was seen on the University of Florida campus Tuesday.
http://www.ocala.com/news/20170125/swastika-wearing-man-spotted-on-uf-campus
PORT WASHINGTON, WI — On Sunday evening, January 22, the Port Washington Police Department was contacted by an individual who was walking a dog and while doing so, observed vandalism in the form of graffiti to the Memorial Pavilion located in Coal Dock Park.
The responding officer observed graffiti applied to the interior upper deck area of the memorial pavilion in the form of black spray painted images. The images include that of a swastika and profanity.
http://patch.com/wisconsin/portwashington-wi/memorial-pavilion-defaced-profanity-swastika
[OR] On Tuesday, some people in Northeast Portland woke to discover Nazi graffiti in their neighborhood.
Licia Hauss said over the phone that she came across a black swastika while walking her dog near Northeast 30th Avenue and Flanders Street on Tuesday morning.
http://www.oregonlive.com/portland/index.ssf/2017/01/nazi_and_anti-feminist_graffit.html
Jan 20
[IL] Graffiti depicting swastikas and other symbols, combined with the name "Trump" have been found on five recent occasions in the Northbrook Public Library, and the village's Police Department is investigating the vandalism as possible hate crimes, according to library officials.
http://www.chicagotribune.com/suburbs/northbrook/news/ct-nbs-trump-swastikas-tl-0126-20170120-story.html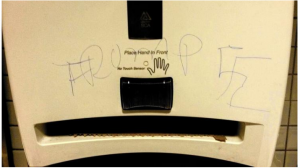 CROSS RIVER, N.Y. — Swastika drawings and carvings were found on a tree at John Jay High School, according to multiple news reports, citing a letter to parents from Principal Steven Siciliano.
http://poundridge.dailyvoice.com/schools/swastikas-found-on-tree-at-john-jay-high-school/696981/
Jan 18
[CA] Students and parents are raising concerns after pro-Nazi fliers appeared on printers around UC Berkeley campus that also championed the day that Donald Trump is sworn in as president.
A Jewish mother, who asked to be called Mary for fear of retribution and who lives in the San Fernando Valley, said her daughter is a freshman at UC Berkeley. She obtained one of the fliers through a friend, who works on campus, and who said that they appeared on many, if not all, printers on Tuesday.
http://www.nbcbayarea.com/news/local/Swastikas-Pro-Trump-Fliers-Found-on-UC-Berkeley-Printers-411081265.html
Jan 16
[NY] The Seventh Squad is investigating a bias incident that occurred at Brady Park on Friday, Dec. 30 at 5 p.m. in Massapequa Park. According to detectives, Seventh Precinct Police responded to calls from an employee at Brady Park, located on Lake Shore Drive. The employee had discovered a swastika spray painted on a wall near the shuffle board court. A second swastika was later discovered on a picnic table bench. Both swastikas were spray painted in black.
http://www.massapequaobserver.com/hate-symbols-found-in-brady-park/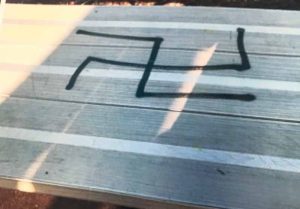 FAIR LAWN, N.J. — A Fair Lawn man was charged with bias intimidation after police found swastikas taped to a hallway inside a Langan Court residence in November, police said.
http://patch.com/new-jersey/fairlawn-saddlebrook/man-arrested-after-swastikas-found-fair-lawn-residence-police
Jan 13
[MA] Newton Police took reports of seven anti-Semitic incidents at F. A. Day Middle School during the 2015-2016 school year, according to police reports recently obtained by the TAB.
In total during the 2015-2016 school year, swastikas were found on school grounds on three occasions; "Burn the Jews" was twice written inside bathrooms and two students at separate times drew swastikas on class assignments, the reports show.
http://www.wickedlocal.com/news/20170113/newton-police-probed-seven-anti-semitic-incidents-at-day-last-school-year
Jan 11
[OH] A Muslim woman who lives in Toledo, Ohio said this week that she was shocked to find Nazi hate speech scrawled on her home.
In a Facebook post on Tuesday, Malak Ayache shared a photo of graffiti painted her garage door, reading, "F*ck Arabs." A swastika was also painted on the door.
https://www.rawstory.com/2017/01/fck-arabs-horrified-muslim-woman-finds-swastika-and-hate-speech-painted-on-her-ohio-home/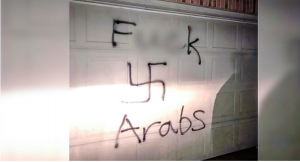 NORTH BERGEN [NJ] — A driver for a North Bergen warehouse claims he found a disturbing sight at his job Thursday morning: a swastika and "WP" scrawled across a company trailer.
http://www.hudsonreporter.com/view/full_story/27344253/article-North-Bergen-driver-notices-swastika-at-job-site?instance=top_story
Jan 10
[KS] Centennial Park is no stranger to graffiti. Just a short walk downhill from the park's west parking lot rest a few concrete skate ramps peppered with spray-painted faces, initials and other indistinguishable marks.
However, on Saturday city officials received word of a particularly incendiary piece of vandalism at the park.
A small swastika was recently spray-painted on the northeast side of Centennial Park's signature Polaris missile, which was given to the city of Lawrence by the U.S. Navy in October 1964.
http://www2.ljworld.com/weblogs/crime_blog/2017/jan/9/graffiti-swastika-reported-on-centennial/
Jan 7
[CA] When Jenna Gerstner took her two young sons to the park about a mile from her Mission Viejo home the afternoon of Dec. 14, she did not expect to see those images.
Two Nazi swastikas.
One was scratched on a wall and another on a tree stump in the kids play area at Pavion Park.
http://www.ocregister.com/articles/community-740489-hate-park.html
Jan 6
[CA] Swastika-like symbols were discovered at five separate locations on the Stanford University campus, San Francisco news website The Mercury News reported.
According to the report, graffiti was part of a spate of a total of 10 cases of antisemitic vandalism in the vicinity of the school, including in residential areas.
Police concluded that though the symbols were drawn incorrectly — with the lines turning in the wrong direction — they were intended to mimic the Nazi insignia, because one of them was accompanied by the words: "No Jews allowed."
https://www.algemeiner.com/2017/01/06/no-jews-allowed-accompanies-swastika-like-symbols-found-on-stanford-campus/
Jan 5
RARITAN, NJ — A Swastika was reportedly carved into the door of the Raritan Train Station lobby on Dec. 27, police reported.
http://patch.com/new-jersey/bridgewater/swastika-carved-raritan-train-station-under-investigation
PALM BEACH COUNTY [FL] (CBS12) — Some Palm Beach parents are concerned after a swastika symbol was found drawn inside the boys' bathroom of a school and they feel the academy is underplaying what happened.
http://cbs12.com/news/local/swastika-symbol-drawn-inside-bathroom-at-palm-beach-day-academy
Jan 4
INWOOD, NY — An Inwood resident walking through the Dyckman Street A train station Monday night spotted four swastikas drawn onto an advertisement for an art exhibit at the Jewish Museum.
http://patch.com/new-york/washington-heights-inwood/swastika-graffiti-spotted-inwood-subway-station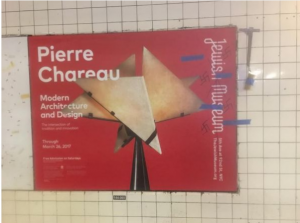 [NY] Two more swastikas were found spray painted on Long Island, this time at Brady Park in Massapequa Park, and detectives are investigating the crime as a bias incident, Nassau County police said.
A park employee discovered the symbols of Nazi Germany spray painted on a wall near the shuffle board court at the park on Lake Shore Drive at 5 p.m. Friday, police said Tuesday. A second swastika was later discovered on a picnic table bench, police added. Both were spray painted in black.
https://www.longislandpress.com/2017/01/04/2-more-swastikas-found-in-massapequa-park/
Jan 3
Swastika painted on Reform rabbinical school's sign in Cincinnati
http://www.jta.org/2017/01/03/news-opinion/united-states/swastika-painted-on-reform-rabbinical-schools-sign-in-cincinnati
MASSAPEQUA PARK, NY – Police are investigating after hateful graffiti, including swastikas, was discovered in Massapequa Park on Friday night and Saturday morning.
http://patch.com/new-york/massapequa/swastika-graffiti-found-massapequa-park
[CO] City employees were dispatched today to quickly cover up a series of swastikas that someone carved into playground equipment at Longmont's Loomiller Park.
http://www.timescall.com/longmont-local-news/ci_30699524/swastikas-carved-into-playground-equipment-at-longmonts-loomiller
Jan 1
[MA] Officials are attempting to determine who is responsible for swastikas and other hate speech graffiti found in bathrooms at Cambridge Rindge and Latin School.
The graffiti were found in three of the high school's bathrooms on Tuesday afternoon and Wednesday morning, according to a letter Principal Damon Smith sent to parents and students.
http://www.metro.us/boston/swastikas-racist-graffiti-found-at-cambridge-rindge-and-latin/zsJplh—IsMt2Nd65tc/
2016
Dec 31
[CA] Six locations around Palo Alto, including two law offices, were vandalized with what police believe were meant to be swastikas on Thursday night.
The vandal or vandals drew the swastika symbol with the arms facing the wrong direction, said Lt. James Reifschneider, a spokesman for the Palo Alto Police Department. The swastikas drawn were more similar to the symbol for peace commonly associated with Buddhism and Hinduism, he said.
http://www.latimes.com/local/lanow/la-me-ln-graffiti-palo-alto-20161230-story.html
Dec 30
CHANDLER, AZ (3TV/CBS 5) –
As Hanukkah draws to a close, a Chandler couple woke up to find their front-yard decoration celebrating the holiday had been turned into the universal symbol of hate.
Naomi Ellis said her husband, Seth, built the menorah after their three sons – ages 5, 7 and 9 – asked for holiday lights to celebrate the season.
"We live in a great neighborhood with kind and welcoming neighbors," Ellis said. "We never would have imagined that someone would spread so much hate here."
Friday morning, Ellis awoke to what she called a "horrible act of aggression."
During the night, somebody destroyed the family's menorah and turned it into a swastika.
http://www.azfamily.com/story/34155161/family-finds-menorah-on-front-lawn-twisted-into-swastika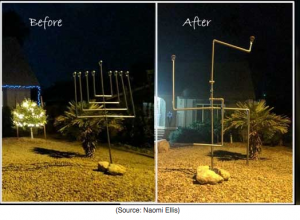 Dec 29
[VA] Police in Henrico (Va.) are investigating vandalism at the Tuckahoe Little League complex.
The vandalism could be reported as a hate crime because of the language and pictures on the building, including "White Power," a swastika, and messages about immigrants.
http://usatodayhss.com/2016/va-little-league-complex-vandalized-with-swastika-white-power
PLUM, Pa. — At least three boats were damaged in a vandalism spree at a Plum marina, with anti-Semitic messages written on the walls of one boat.
http://www.wtae.com/article/swastikas-hitler-was-right-carved-on-walls-during-boat-vandalism-spree/8543361
Dec 28
SOUTH SALEM, N.Y. — Graffiti that includes a swastika was discovered on the playground equipment of Lewisboro Elementary School, Katonah-Lewisboro Schools Superintendent Andrew Selesnick announced in a Tuesday email to parents.
http://lewisboro.dailyvoice.com/schools/graffiti-including-swastika-found-at-closed-lewisboro-elementary-school/694410/
Dec 25
[NY] As the list of bias crimes in Nassau County has grown, community leaders are mobilizing to combat messages of hate.
In the Town of North Hempstead, where swastikas have been found painted on schools and etched in snow, government officials, religious groups and residents are calling for more action and conversation across racial, ethnic and religious lines to fight intolerance and discrimination.
http://www.newsday.com/long-island/swastikas-lead-n-hempstead-groups-to-combat-hate-crimes-1.12800089
Dec 24
MILTON, Mass. — Students are facing discipline after drawing swastikas in a school just a few days before Hanukkah, according to officials with the town of Milton.
The students drew the symbols in a bathroom at Pierce Middle School, according to a statement from the town. The children were not identified, but the town said Police Chief John King is working with the school to address the matter.
http://www.wcvb.com/article/middle-school-students-drew-swastikas-in-bathroom/8534540
[NY] Nassau County detectives are searching for the person or people who apparently carved a 20-by-20 foot swastika into a Levittown ballfield.
http://www.newsday.com/long-island/crime/swastika-dug-into-levittown-ballfield-nassau-police-say-1.12800947
Dec 23
[MA] Multiple swastikas were found inside of a Milton middle school bathroom, a letter sent to parents said Thursday.
Pierce Middle School Principal Karen Spaulding said the event was "inconsistent" with the school's culture, and offered the school's guidance counselors as support for students.
http://www.patriotledger.com/news/20161223/swastika-graffiti-found-in-milton-middle-school
Dec 22
[CA] Glendale police are investigating a possible hate crime in Montrose after a family said its home was defaced with a swastika last Friday morning.
The home, located in the 2000 block of Pickens Avenue, was tagged with a giant red swastika on the garage door with what appears to be "Trump" written underneath, and a racist note was left behind as well.
http://www.latimes.com/socal/glendale-news-press/news/tn-gnp-me-hate-crime-20161220-story.html
SARASOTA, Fla. (AP) – A Jewish congregation in Sarasota says someone drew anti-Semitic images on its property.
The Sarasota Herald-Tribune (http://bit.ly/2hX9VHT ) reports two small swastikas and a third attempt at one were drawn on the main building and a shed in the playground area at Temple Sinai in Sarasota.
http://www.wftv.com/news/florida/sarasota-synagogue-vandalized-with-small-swastikas/477972900
Dec 21
FITCHBURG [MA] — Police are "acting very aggressively" to identify a suspect who has been spray-painting swastikas and racial slurs on various buildings since last week, a police official said.
http://www.sentinelandenterprise.com/news/ci_30675978/who-would-do-this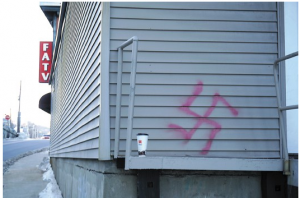 [FL] Three swastikas found in Lake Brantley's parking lot — two discovered months ago and one found earlier this month — were covered up with paint Monday evening, so the Nazi symbols are no longer visible.
http://www.orlandosentinel.com/features/education/os-swastika-graffiti-lake-brantley-high-school-20161220-story.html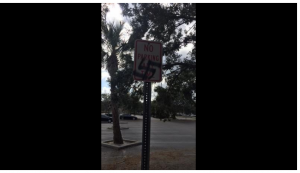 Dec 19
[NY] Nassau County police are investigating three separate incidents in which swastikas were discovered over the last three days, including yet another report of anti-Semitic imagery at Nassau Community College.
https://www.longislandpress.com/2016/12/19/more-swastikas-anti-semitic-graffiti-found-in-nassau/
Nov 30
Nassau Police [Long Island, NY] are investigating the spraying of racist graffiti on residential sidewalks in Mineola as hate crimes.
On Nov. 30, residents on Washington Street and Elm Place woke up to find "Make America White Again" spray-painted on their sidewalk, along with swastikas and racial slurs against black and Middle Eastern residents.
http://patch.com/new-york/mineola/racist-graffiti-sparks-police-investigation-social-media-outrage