The hurricane was on the radar. The hurricane was coming its way. Predictions were that it would be bad. Not only was it bad, it was so destructive that it wiped out the electric grid on the island. However, the stable genius told us it wasn't that bad, that the death toll was quite low, and that all that was needed was a roll or two of paper towels.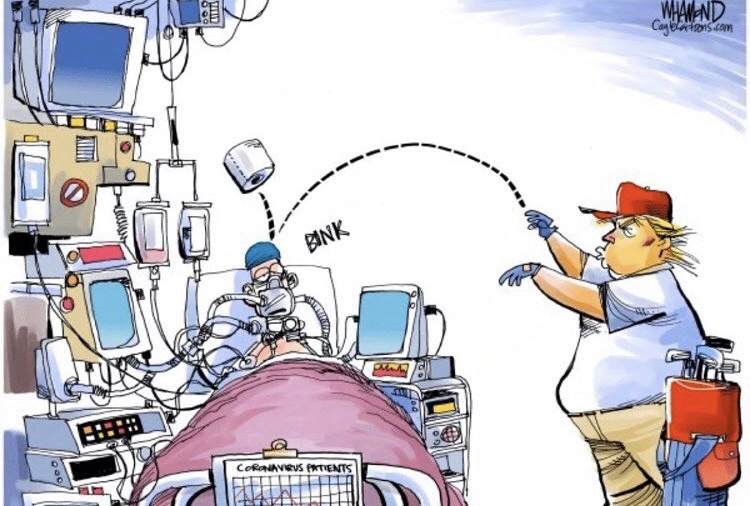 The virus was on the radar. The virus was headed our way. The prediction was that it would be bad. We don't yet know how bad it will be, but indications are that it might wipe out our medical infrastructure, an infrastructure that's as fragile as Puerto Rico's electrical grid. In response, the stable genius tosses us a roll of paper towels. He told us there will be one million tests, but that has still not happened. He told us that major advances have been made against this virus, and that still hasn't happened. He told us that the economy is doing great, and the stock market keeps plunging.
Perhaps when all this is behind us we will reflect on what had happened and how we got into this situation. Perhaps we will then be as serious about our politics as we are about our favorite sports team, and we'll follow politics as closely as we follow sports. Perhaps we will realize that the dunces that sat at the back of the classroom should never be put in charge of the classroom or the government. Perhaps we will take to heart our obligation as citizens to help one another, to be more empathetic, and to acknowledge that decisions need to be made based on logic, facts, and reasoning, along with a large amount of compassion and kindness. Perhaps we will finally realize that we created this mess and that it is up to us to fix it.




by